bwireless releases the book Things you should know about the Internet of Things on Solentro.se.
Reviews from Amazon.com: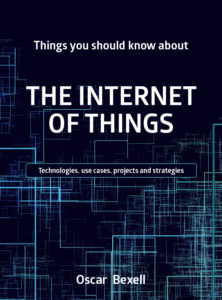 Some say that the Internet of Things will consist of 50-100 billion connected devices by 2025. We have already come far on that road, but what does IoT mean to you? Is it a technology, a network of devices or is it about transforming industries and lives?
Things you should know about the Internet of Things is a book that takes you beyond the IoT buzzwords and hypes. It does not focus on how to engineer sensor devices, compare radio protocol specifications or how you build an own IoT platform. Instead, it explains the key points of each area to give the reader practical understanding of what "Things", networks, platforms, applications, IoT security, architectures and IoT use cases actually are about.
By reading this book, you will understand what IoT means and learn about the four layers of IoT which are Things, networks, platforms and applications. You will understand how to make platform and network selections in various phases of a project, position objects and humans in different environments and how to carry out successful IoT projects where people, processes, business cases and use cases working and integrating are prioritized over technology.
The book is written for three categories of people:
Those who come from a technical background and want to learn what IoT is and how they can start working with it.

Those who are already working with IoT as technicians, project managers, decision makers or solution architects and want to learn more about wireless networks, platform strategies, tracking/wayfinding, practical use cases or how to carry out successful IoT projects.

Students who are new to IoT and want to get things right from the start without getting lost in buzzwords.
The book includes the following chapters:
1      INTRODUCTION
2      WHAT IS IOT?
3      IOT SECURITY AND TRUST
4      THINGS
5      RADIO TECHNOLOGY BASICS
6      IOT NETWORKS AND PROTOCOLS
7      IOT PLATFORMS
8      IOT APPLICATIONS & EFFECTS
9      TRACKING AND WAYFINDING
10        PRACTICAL IMPLEMENTATION EXAMPLES
11        SUMMARY AND FINAL WORDS
The chapters are briefly described below.
The first two chapters describe how IoT is defined, what it actually means in practice and why it fuels the fourth industrial revolution and Industry 4.0.

The third chapter describes the fundamentals of IT/IoT security.

Chapter four to eight cover the four layers that IoT solutions consist of (Things, networks, platforms, applications/effects). We dig into each layer looking at what devices, sensors, wireless network technologies, IoT platforms, types of architectures, application areas and use cases are all about. Security aspects are highlighted for each area.

Wayfinding, positioning technologies and related use cases are central in IoT. This is covered in chapter nine.

Chapter ten is a summary of how to plan and execute IoT projects. Practical, real-life examples are used.

The last chapter sums up the book and gives some final tips.